DC recently announced that Leslie Grace has been cast to play Barbara Gordon, aka Batgirl, for the upcoming HBO Max movie. It's about time we get to see Batgirl back on the silver screen! Even if that silver screen is the size of our laptop.
Batgirl hasn't appeared in a live action film since Alicia Silverstone donned the batsuit in 1997's Batman & Robin. We as a society have agreed to block that neon blacklight fever dream from our memories, so we need a Batgirl to replace it.
The new HBO Max film, penned by Birds of Prey writer Christina Hodson, doesn't have a release date just yet, but we're already getting hyped. Here are 10 things you should know about her before the film is released.
10 Fun Batgirl Facts
1. There's more than one Batgirl.
And we don't mean like the way Madonna reinvents herself every few years. There's been a few characters who've donned the cowl, including Cassandra Cain, Harley's light-fingered sidekick in Birds of Prey. The most popular Batgirl, and one Grace plays in the upcoming movie, is Barbara Gordon.
2. The first Bat-Girl Robin's girlfriend.
In the early 1960s, Betty Kane was introduced in the comics as Bat-Girl, a romantic interest for Robin and sidekick for Batwoman. Hopefully Robin is a better boyfriend than Batman, but considering where he left the bar, that shouldn't be too hard.
3. Barbara Gordon was created for the 60s TV show.
The producers of the hit Batman TV show in the late 60s wanted to attract more female viewers, and brought back Batgirl. This time as Barbara Gordon, daughter of Police Commissioner Gordon. Nothing says "we know what women want" like skin-tight purple lamé. Actually, they're not wrong.
4. She's a triple threat.
Master of martial arts, expert computer hacker, and genius with a photographic memory. No, it's not a list of what your last awful Tinder date claimed to be. It's a list of Barbara Gordon's actual accolades. She also is better than your last Tinder date because we guarantee she has zero pictures of herself holding a fish.
5. She's been a librarian and a Congressional representative.
Early in her crime-fighting career, Barbara was a librarian by day, and caped crusader by night. But in the 70s, she hung up the tights and was elected as the Gotham Congresswoman. Imagine Alexandria Ocasio-Cortez, but at night she goes out and beats up bad guys. BRB, we have to go obsess about that idea in our dream journal.
6. She's had questionable hook-ups with Batman.
In a couple of the animated appearances of Batgirl, she's been romantically involved with Batman. Most fan reactions to this idea have been pretty negative because of the established dynamic and age gap between them… and the fact that she was originally introduced as his niece.
7. Barbara Gordon's love life is doing just fine.
Batgirl was not only engaged to Dick Grayson, formerly Robin, but has dated Superman. Superman didn't come out on top of our diligent analysis which superheroes treat the ladies right, but Dick Grayson is a different story. This is a man who was created for the ladies, so Barbara is living her best life with Dick. 8. She was paralyzed by the Joker
In one of the most critically acclaimed Batman stories, The Killing Joke, Joker shoots Barbara to get at Commissioner Gordon, without knowing she's also Batgirl. For two decades, Barbara Gordon was in a wheelchair and acted as the hacker and information broker Oracle, making her one of the most well-known disabled heroes.
9. Her brother is a supervillain.
Talk about sibling rivalry. Barbara gets all the looks, the brains, and the crime-fighting skills in the family.  Her older brother James Gordon Jr., gets all the murdery, psychopathic tendencies. But every child is different, right?
10. Barbara Gordon co-founded the Birds of Prey
As Oracle, Barbara teamed up with Black Canary to form Birds of Prey, a superheroine team with a rotating cast of super ladies.
Barbara getting left out of the 2020 Birds of Prey film was kind of like when you text the group chat to go to brunch, and they pick a time you can't go, and everyone's like we'll go anyways and find another time we can all go later. And you're like great, I'm sure I'll have just as much fun at my cousin's baby shower by myself. Love drinking mimosas out of a baby bottle.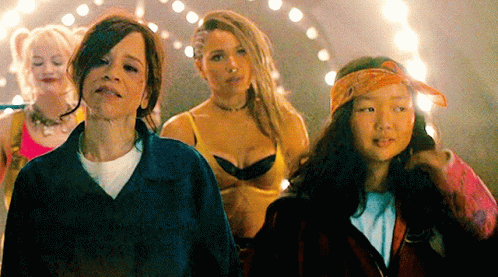 Latest posts by Marissa Rousseau
(see all)