It's been a long year and a half, and we're not just talking about quarantine. For the first time since 2019, Lizzo has finally blessed us with a new song, "Rumors," featuring Cardi B.
Excuse us for using such a technical term, but it's certifiably a bop.
And it's only fitting that these two queens chose an Ancient Greek-inspired setting for the music video. Their transformation into goddesses is sheer perfection, and if this is what history was actually like, we may have paid more attention in class.
But the Rumors music video is full of so many spectacular details that it's kind of like a history lesson itself. One that doesn't censor anything sexual and raunchy, of course. Like real history.
Here are 10 things you may not have noticed from Lizzo and Cardi B's new video. Because yes, it's worth a second watch. But actually, at least five.
10 Perfect Details From Lizzo's Rumors Music Video with Cardi B
1. Major Muse vibes
She's definitely getting that role #rumors pic.twitter.com/A9fn3eIAbX

— ???? ???? (@suanamerto) August 13, 2021
If Hercules didn't have a G rating, the Muses would have looked and danced exactly like Lizzo and her crew. Twerking on columns erected above the clouds? This is the only "remake" we've ever needed.
2. Champagne Papi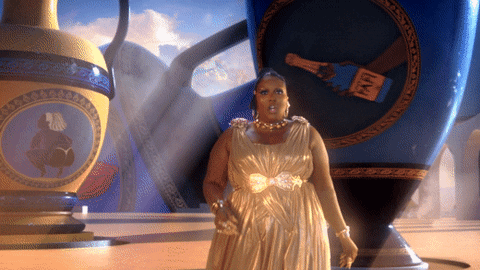 The song is called "Rumors," so you can only expect Lizzo to address some Internet gossip, including her those about Drake. She shuts it all down with the line "No I ain't f***** Drake, yet" as a bottle of "Champagne Papi" explodes in the background. Foreshadowing? What happened to Chris Evans?!
3. The "mountainous" backdrop
Who knew ancient Greece had so many mountains! Well, most people probably. But also, those aren't mountains. Instead, they're booties popping into the sky. Good luck looking at mountains the same from now on.
4. The credit card crack swipe
Blink and you might miss it and the erection that comes with it. Lizzo makes a charge during Cardi B's rap, and honestly, we like this ass-thetic way more than those boring Square machines.
5. Cardi B's throne
If "WAP" didn't ooze enough female empowerment for you (but, really is there ever enough?), Cardi B is literally sitting on a dick-shaped throne in Rumors. We're not sure if it's the subtle retro vibes or the sperm-looking snake on the back, but this would fit perfectly in our office. Hear that, Etsy?
6. The Sister Rosetta Tharpe shout-out
"Black people made rock n roll" – Lizzo

Lizzo did a direct NOD to the legendary Sister Rosetta Tharpe with this image on the vase!!! A Black woman created Rock n Roll. Never forget it. PERIOD! #Rumors pic.twitter.com/F5aP8FnmbE

— Jason (Moderna Gay. One Piece stan) (@EscaflowneClown) August 13, 2021
"Black people made rock and roll, yeah." Lizzo raises a fist to Sister Rosetta Tharpe, the trailblazing singer, songwriter, and guitarist who rose to fame in the 1930's and 40's. Tharpe, who was finally inducted into the Rock and Roll Hall of Fame in 2018, paved the way for women – especially women of color – in the rock music industry.
Hey Siri, play Strange Things Happening Every Day.
7. All the genitalia. All of it.
From flying golden penises during Cardi B's solo to dicks and vaginas framing the final pottery art work, we could make a whole separate list with all the times there's genitalia featured in this music video. If this is all just a subtle ploy to make us really horny…we're not saying it's not working.
cardi and lizzo had male and female genatalia on the frame of this visual and we didn't notice ???? #Rumors pic.twitter.com/vfko83T9yv

— Hassan (@cockycardi) August 13, 2021
8. The nails
Crafted by nail artist Eri Ishizu, Lizzo's gold talons are absolutely what Greek Goddesses would wear if they had access to acrylics. And yes, of course they're made with Swarovskis.
9. The sexy artwork
As Lizzo glides down the stairway, look to the sides for some A+ pottery art. One woman is tied up for some bondage play, and another woman is defying gravity by hanging upside down on a stripper pole. BRB while we check how sturdy our ceiling is…
10. The clothes
This is one of the more obvious details of the Rumors video, but we have to give the garments their proper spotlight. Lizzo wears a sequined bodysuit with ethereal white flowing fabric. Cardi B sports a gold breastplate with gold chains framing her pregnant stomach. Someone call Pantone. The queens have just chosen new colors for this year.
Latest posts by Hannah Rex
(see all)